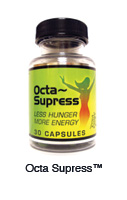 Octa Supress™
Less Hunger. More Energy.
Two capsules a day are good for:
-Increases energy
-Lowers cholesterol
-Reduces blood sugar in diabetics
-Water retention
-Digestion
-Depression
-Improves brain functions
-Prevents clotting
-Strong body muscle
-Relieves any body pain
-Helps with the symptoms of Alzheimer's, Parkinson's
-Speeds up metabolism
-Reduces cravings
-High blood pressure
-Heart
-Increases circulation
-Liver, kidneys, pancreas
-Memory retention
-Oxygenates the blood
-Helps build lean muscle
-Sexual performance
-Helps with infections
Here's all you do - For optimum results:
1. Take one (1) capsule at 10 AM
2. Take your second capsule shortly before 3 PM
DO NOT exceed recommended dosage.
Ingredients:
Citrus Aurantium: Stimulates fat metabolism, Provides energy boost, and suppress appetite.
Hoodia Gordoni Cactus: Appetite suppressant and thirst quencher.
Pausinystalia yohimbe Bark: Increase energy and sexual functions.
Rice Bran: Lower the effects of aging (with its high antioxidants) arthritis, cardiovascular disease, high cholesterol and diabetes.
Corydalis rhizoma: Lowers blood pressure and alleviates pain.
Griffonia simplicifolia: Promotes weight loss and controls appetite.
DMAE: Promotes skin health and helps with memory and concentration and also with depression.
Apple cider vinegar: Promotes weight loss, lowers cholesterol & blood pressure.
Beta vulgaris root: Lowers blood pressure and enriches blood.
Fucus vesiculosus: Burns fat & promotes toning of muscular fiber.
Polygonum multiflorum root: Rejuvenates body and Protects skin.
Garcinia cambogia fruit: Reduces cravings, increases metabolic process.
Zingiber officinale root: Lowers cholesterol and increases metabolism.
Ginkgo Biloba: Inhibits water retention, enhances cellular energy, strengthens the heart, oxygenates the blood, prevents clotting, improves brain functions and memory retention, fights free radicals, and boosts neurotransmitters. May help in the prevention of cancer.
Camellia sinensis leaf: Reduces cholesterol and weight.
Paullinia cupana berry: Detoxifies blood, burns fat and increases energy.
Crataegus monogyna berry: Improves heart function and lowers blood pressure
Cola acuminata nut: Improves energy and alertness, strengthens the heart.
Sabal serrulata Berry: Stimulate urinary system & increases uric acid excretion.
Eleutherococcus seticosus root: Increases endurance and enhances memory.
Royal jelly: Rich in vitamin B, essential amino acids and minerals.
Caffeine: Increases energy, stimulates the central nervous system and metabolism.
Trace mineral complex: Acts as agent that complements the maximum absorption of energy in the body.
Salix alba bark: Contains salicin which the body converts to salicylic acid, performing the same role as aspirin without the side effects.
Llex paraguariensis: Acts on sensory organ to reduce food cravings.